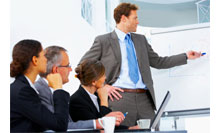 Specialty Chemicals Expert and Management Consultant
StrategyMark is a specialty chemicals consulting firm founded by industry expert Michael D. Brown. The firm works internationally serving the needs of investors, financial analysts, chemical producers, attorneys, and the media. Mr. Brown gained his specialized knowledge of the industry and its unique marketing and business development practices through a 32-year career at leading chemical companies including DuPont, PPG and Quaker Chemical.
Paint and coatings, plastics, polymers, specialty additives, adhesives and sealants are the largest end-use of specialty chemicals, with a global market value exceeding $250 billion per year. StrategyMark provides insight into the production and use of these chemicals in the following industries:
Building and construction – commercial, industrial and residential
Packaging – flexible films, rigid containers, tapes and adhesives
Automotive – OEM and refinish aftermarket
General metal – metal components, basic metal, cans and containers
Marine – Deep-draft and pleasure craft
Infrastructure – transportation, water/waste treatment and power generation
Transportation and machinery – trucks, rail cars, RVs, machine tools and construction equipment
StrategyMark services include, but are not limited, to buy-side analysis, corporate strategy development, new business development, product marketing, competitive analysis and litigation support. Click here to learn more about our specialty chemical consulting services.
As an experienced business consultant, Mr. Brown also works with small and mid-sized firms in a wide range of industries. His knowledge of Fortune 50 marketing and operational best practices can be applied to smaller clients seeking improved performance and profitability.
Mr. Brown is a member of the Energy and Industrial Council sponsored by the Gerson Lehrman Group, where he participates as a GLG Leader in the top 5% of all consultants.
Contact Mr. Brown at 302.235.2217 or via email to discuss your business needs confidentially.
Print this Page